I have a new favourite mode of transport!
I recently took a weekend trip to Madrid. Whilst there I took a 3 hour segway city tour which was just an amazing way to see a city. A highlight of the weekend break: walking will never be the same!
Before you head off into the city, Segway Trip makes sure you do plenty of tests around a large pedestrianised square, dodging bemused tourists and locals alike!
In a city as big as Madrid, this is an excellent way to speed up the sightseeing, you can then dedicate the rest of your stay to visiting the tourist spots you really want to see and it's a brilliant laugh as well!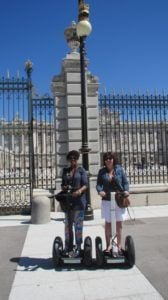 Outside the Royal Palace