Today we're super-excited to announce a new mobile optimised version of our email marketing system that gives you quick access to great looking reports on any campaigns you've sent. It's fast, looks great and is available now. Just head to your account (cloud9.createsend.com) on any popular mobile device like an iPhone or Android and the mobile version will be shown by default. You don't need to install anything, because it is a web application, not a native phone application.
Here's a quick preview of how it looks on an iPhone.
A focus on reporting
When deciding what functionality to include in the mobile version, we've been keeping a close eye on our customers. It turns out that the most popular section of your account accessed by a mobile device is campaign reporting, so that's where we focused our efforts. More than 95% of all mobile visitors also come in on an iPod or iPhone variant, so we put a lot of work into making sure the experience was perfect on these devices in particular. It's a really nice way to get the latest stats on a campaign you've sent in a couple of thumb presses.
Launch it
One great thing about the iPhone is that you can launch web applications just like a traditional app you've bought from the App Store. By heading into your account with Safari and adding it to your Home screen, you have a dedicated button that will load your latest reports with a single click. We even provide a nice icon and loading screen while the latest stats are downloading.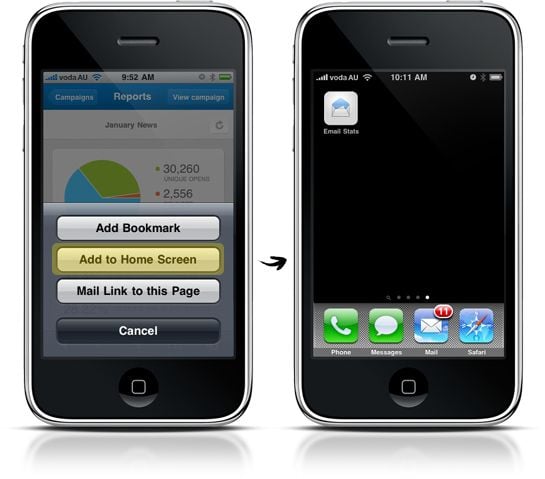 There is lots of cool technology under the hood of our mobile version, and I'll be sure to share some of the more interesting details in a future post.
Easy switching
While the mobile version is all about your campaign reports right now, you can still switch to the full version and access all our functionality with a single click. At the footer of every page is a link to switch to the corresponding page in the full version of the app. We'll automatically switch you back to the mobile version the next time you log in.
If you're using this; please let us know what you think