We've just got back from our latest exhibition where we designed the graphics for a stand for Morsø UK at EcoBuild, held in March at ExCel in London. It was billed as 'the world's biggest event for sustainable design, construction and the built environment and the UK's largest construction event of any type'. Wow – great to be part of such a big event!
Although we're always showing off the large, custom-build exhibition stands we often produce, we thought it would be a good idea to show how we can create graphics for a small-scale shell scheme stand too.
Exhibition stand design, construction and management has always been one of the things Cloud 9 do best and we have loads of experience of all types of exhibition and all sizes and shapes of stand.
We can take on the complete project for you, from negotiating the best stand position to guarantee you excellent footfall, to day-to-day management once the show is open. We've even been known to serve the refreshments when things get busy. And it's always busy as we know exactly how to design and produce stand-out graphics that will draw in the crowds.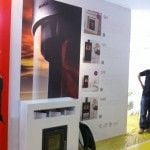 It's not just about being at a trade show, it's that split second you have to convince someone to step on to your stand and not someone else's – that is where Cloud 9's expertise comes into its own. If you don't want the full management service from us, we can work with you however you wish – maybe you just want some stunning graphic panels.
If you are thinking of exhibiting in the near future, let us come and show you our portfolio of successful stands.