I was delighted this week to be invited to judge a creative writing contest at Oakfield Primary School in Rugby.
Mrs Walsh's class of 9 year olds had to design a poster advertising fictitious chocolate – 'Cocoas'.
Not only had everyone created great looking posters, I was amazed to discover that even at this early age, kids already had a good grasp of some of the techniques that people like us use to help sell product.
The Contest
Although it was tough judging, the 3 best were :
1st Place – Emily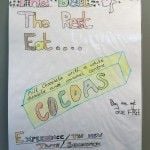 We chose this as the overall winner because we felt is had a good headline, a good promotional offer and a great description of the actual bar itself.
2nd Place – Brandon & Adam
This entry came 2nd because we liked the idea of 'cheeky little cocoas in their beds' – it was fun and conjured up a great image of the product.
3rd Place – Brandon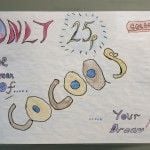 We liked this one because of the strapline :) – "The cream of your dreamzzzz'
Well done to you all!
What's it like working in advertising?
In addition to judging the contest, I gave a brief insight into what working in an advertising agency was like.
Eager to know what happens at Cloud 9, Questions included:
Do you do all the adverts on the TV?
Did I have to go to university to work in advertising?
If you make posters, do you have to put them all up?
What is the best advert we've ever created?
How much do you get paid?
All the kids seemed really interested – who knows? maybe the next Ogilvy or Saatchi will come from Rugby!